Artigian Marmi s.n.c. was established by Francesco Dri in 1978, in San Giorgio di Nogaro, a small industrial community on the Friulian Plain.
In 1998, Francesco transferred the company to his son Marco, the present owner. The company, already firmly established in the building industry, in furnishing and funerary arts, in 2002 was further improved with the upgrading and enlargement of its headquarters and production plant, with the use of state-of-the-art processing systems, which make it now one of the most qualified companies in its field in the region.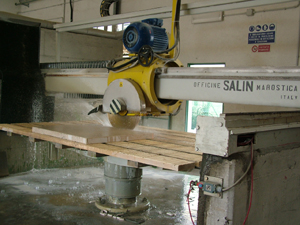 The company's facilities and equipment enable it to be a leader in the processing of marble, granite and composite quartz, materials* that Artigian Marmi s.n.c. offers in a wide assortment, meeting every customer requirement with the quality of its products and the professional competence of its staff.